***NOTE TO MODS*** I am sorry if this is not allowed. Please accept my humble apology and delete.

Two days ago three year-old Alyson Hoy was run over by her father's pick up truck as he left in haste for work and her mother thought she was in the yard. She livesin the small village that I grew up in, Horsefly BC. Medical care there is not prepared to deal with a MAJOR trauma. She was rushed by jet to Alberta Children's Hospital, because the hospital in Vancouve does not have a bed. Her parents, who I grew up around, because they are good friends of my older brothers, are now in Calgary with her. Alyson suffered major internal injuries, a lacerated liver, head trauma, a fractured pelvis and a shattered femur, among other things. She is now in traction, while we wait to see if her leg will need to be operated on before being casted so she can go home, first to hospital and then home, but with rehabilitation. But most important now, is that she will live.

However, Alyson will go home in a body cast to a long road of rehabilitation. Horsefly is an hour away from William's Lake, the nearest city. Once she is out of the hospital, her family will be undertaking the long term, ongoing struggle to see to it that she gets to physio as well as other tests she needs, most likely every day. Right now, they are simply thankful that Aly is alive, as am I. But I have cerebral palsy and required daily physio for most of my preteen life. I know how time and cost intensive it can be.

And so I am about to do something I never thought I would do.

If you are able, please donate to the paypal account below. I want to help them get their daughter home and make sure she walks again. I hope that there are others out there who do as well. If you do not wish to use paypal but do with to donate, please contact me at josiah.rose@gmail.com. This is real. Alyson is not a picture I photoshopped at random. This is not a scam. This is one girl who is on Alberta Assured Income for the Severely Handicapped trying to do something nice in the face of something terrible. If you wish proof, please contact me at the previous email address and I will see you get it, assuming you wish to help.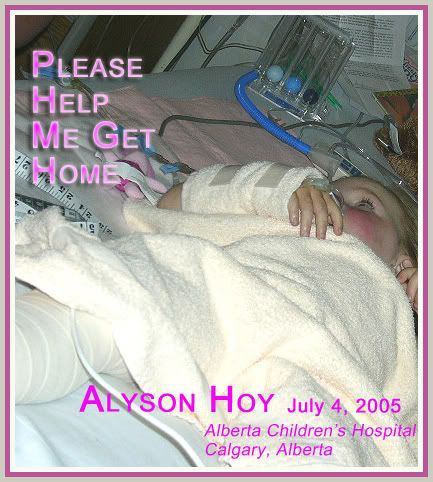 Click the button below to donate to the PayPal accont I have set up. I have not specified an amount, but please, remember...EVERY LITTLE BIT HELPS !!!

If you cannot help financially, please send healing energy/good thoughts/warm fuzzies/prayers. At this point, Aly needs all the help she can get.

***Soon to be cross posted. My apologies to those who get this more than once but I realy want to do something tangable***